Autumn 2014
TIES456 Introduction to SOA and Cloud Computing, 5 ECTS
TIES532 - Service oriented architectures and cloud computing for developers, 5 ECTS
Today
Last week's work
Where are we now?
What is still to come?
Next weeks exercise
General feedback - Last week's task
The heaviest task in the course
A lot of parts

Web service client (WSDL/SOAP - wsimport)
Rest client (Geocoding API)
(Rate limiting)
Cache
Web service server (JAX-WS)
Rest server (JAX-RS)
Web interface (website with map)
General feedback - Submission
Only few groups are completely ready

The assignments are not checked yet (only roughly)
=> Combined with next week's assignment
Last week's task - To be completed by Friday
Some improvements are needed (does not apply to all groups!)

Refactor the code you created last week so that methods and packages have a normal name.
Remove unused files generated by IDEs
Split your client and server code

Separate projects/packages

Projects makes dependencies more visible

Next weeks exercise will continue from the results of this week.

By Friday
General feedback - Creation of Proper types
Using a String for CountryCode and 2 Doubles for location works.

  String getCountryCode(double latitude, double longitude);
  Double getGDPByCountryCode(String countryCode);

More readability and safety : Make a CountryCode and Location class which checks the bounds.

  CountryCode getCountryCode(Location location);
  GDP getGDPByCountryCode(CountryCode countryCode);
General feedback - Same origin policy of browsers
When visiting a site on http://localhost:8088 , it cannot make a request to http://localhost:8089

Seems to be browser independent.

Too much information from Browser Security Handbook, part 2
Basic info on wikipedia
General feedback - REST Anti-Patterns
Tunneling everything through GET

 http://example.com/some-api?method=deleteCustomer&id=1234

Tunneling everything through POST
Ignoring caching
Ignoring response codes
Misusing cookies
Forgetting hypermedia

Your representation should contain links to connect to other aspects of the service
When making a getCountryList service, it could include links to get the GDP of these countries.

Ignoring MIME types

Breaking self-descriptiveness
Where are we now? - SOA maturity model.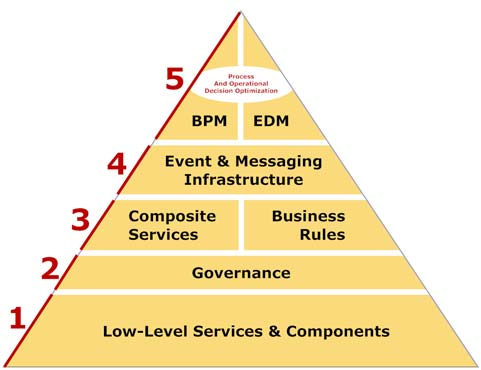 Picture credit:Open source SOA (Jeff Davis)
Where are we now? - 1. Low level Services and Components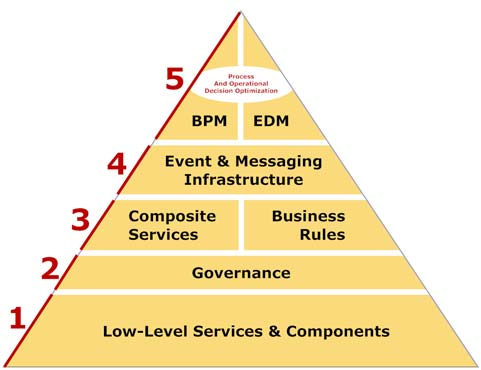 RESTfull
HTTP
SOAP
Servlets
Web servers
Where are we now? - 2. Governance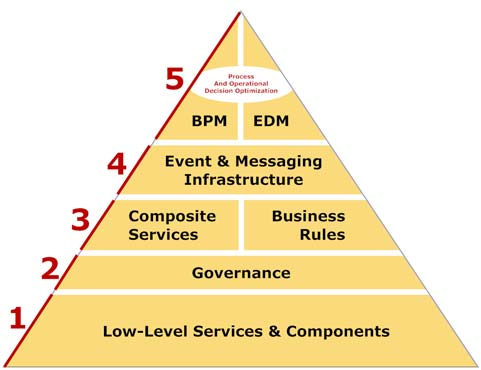 Keeping track of what you are doing - management - discipline
WSDL
Writing documentation for RESTful service
Put these to repositories
Related to Enterprise Architecture (not organized this academic year : TJTSE25)
Where are we now? - 3. Composite services - Business Rules Engine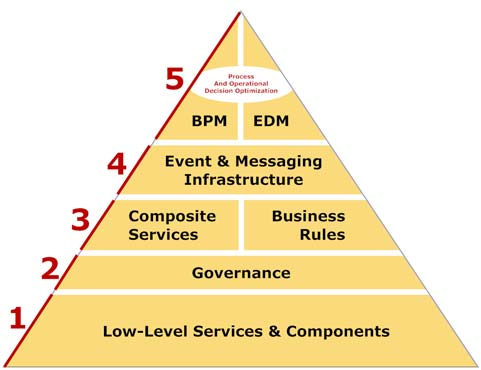 LocalGDP is a composite service
Business Rules Engines are software packages for creating complicated composite services, for instance BPEL
Where are we now? - 4. Event & Messaging Infrastructure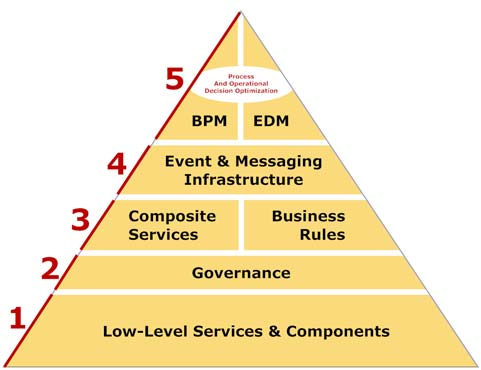 Not really handled in this course, included things like

Message queues
Publish-subscriber models
Event handling
Message brokers
Monitoring
Routing
Load balancing

Used implicitly when using PaaS solutions like GAE and Heroku
In TIES454 Agent Technologies for Developers there is some overlap.
Where are we now? - 5. Business Process Management & Enterprise Decision Management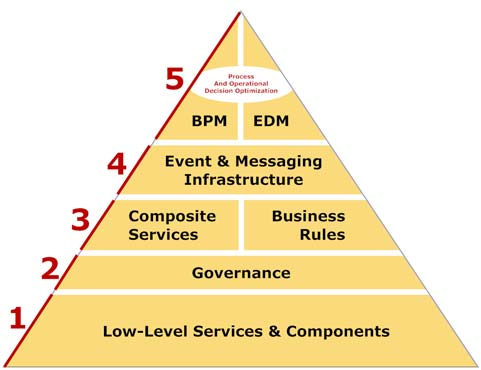 What is still to come? - Cloud computing
SaaS

Software as a Service
We did this already - didn't we?
How do you get paid for service use?

PaaS

Platform as a Service
An organization provides a place where you can run your code
Next weeks task

IaaS

Infrastructure as a Service
You get a bare server
AWS
Next weeks exercise - PaaS - deployment on GAE
This week
Before Thursday

Read prerequisite material

Before Friday (23:59)

Make corrections to last week's exercise

On Thursday and Monday

Make the assignment in groups

Before Monday (23:59)

Submit assignment using git (tip of master branch)